Access to Work; the 5 Ws that separate you from an accessible workplace
Updated: Mar 27, 2020
Getting a job for a Deaf or Hard of Hearing person is closely connected to Access to Work (AtW) funding; as long as you have a job you might need the support in your workplace to face the same opportunities and conditions as the rest of your colleagues.
At Deaf Umbrella, our Job Club assists Deaf and Hard of Hearing people to engage with employment activities:
We support you with preparing for work

We provide you an interpreter 121 during your job search activities

We help you with your Access to Work application for job interviews and once you get the job
A few months ago we all received the good news about the rise of the cap on Access to Work funding for disabled workers, but there are people and companies that still need information about how AtW can support them, so below you will find some of the questions you might be asked about it:
1.

WHAT IS access to work (ATW)?
Access to Work provides support to people in employment in the UK who have a disability or a physical or mental health condition.
The money that AtW provides helps disabled people to access "vital" communication support enabling them to thrive and succeed in the workplace.
2.

I'M DEAF; HOW CAN AtW HELP ME?
If you're deaf or hard or hearing, you may be eligible to receive an Access to Work grant to cover:
Communication support at interviews during your job search

Live captioning and British Sign Language (BSL) Interpreters in meetings, conference calls and training sessions

Special equipment for the workplace, such as microphones, textphones or hearing loops
3.

WHO IS ELIGIBLE & WHERE SHOULD I APPLY?
To start using Access to Work funding you can get in touch with AtW centre by:
Filling out the AtW application form online (up to 12 weeks before your starting date)

Contacting them by textphone (0800 121 7579)

By email

Or using the BSL video relay service
Once AtW verify that you are eligible to receive a grant, they will recommend support services that would be useful to you.
4.

HOW MUCH MONEY ARE WE TALKING ABOUT?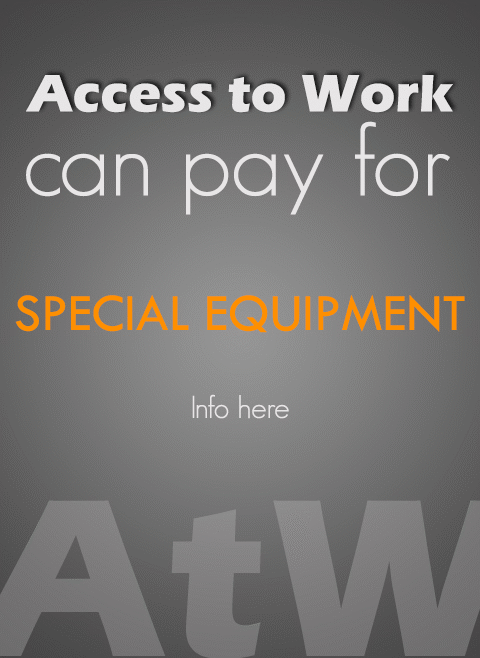 Your individual situation will set the funding amount recommended to cover the support you need.
From 1 April 2019, Access to Work funding is capped at £59,200 per year.
The Government has set this at double the national average annual salary, and the maximum amount is reviewed every year in April.
After a 3 year period your needs will be reassessed just to make sure you're receiving the correct form of support and to renew your grant. If you still need the support, then you should continue to get the money.
5.

WHY DON'T YOU APPLY NOW?
Its easier than you think!
Difficulties trying to find a job? → Join our Job Club

Are you already working but need workplace support? → We can help you

Do you have a Deaf/HoH worker and you want to provide accessible equipment or communication support? → Find out more
Join us on Facebook, Instagram, Twitter and don't miss our Deaf Umbrella TV YouTube channel!!
Connect with us on LinkedIn now.
#accesstoworkatw #employmentsearchsupportfordeafpeople #employmentsearchsupport #ukdeafsupport #communicationsupportworker #britishsignlanguage #signlanguageinterpreter #britishsignlanguageinterpreter #preemploymenttrainingfordeafpeople #deafandhardofhearing #bestdeafblogpost #deafawarenesstrainingcourse #deafawareness #deafcommunity #deafpeople #deafsupport #london #fullinclusionwithsignlanguage #accesstoworkfoundingatw